Che Bella Salon
santa fe, new mexico
Our salon services include hair styling, hair color and corrective color. Our staff is professionally trained in the latest industry techniques and products. Our service and dedication to clients is unsurpassed.
PLEASE PROVIDE 24 HR CANCELLATION NOTICE OR INCUR A 50% SERVICE CHARGE. ARRIVING MORE THAN 15 MINUTES LATE MAY BE SUBJECT TO RESCHEDULING.
CHE BELLA HAS 1-2 DOGS IN THE SALON. PLEASE LET US KNOW IF YOU HAVE A FEAR OF CANINE COMPANIONS SO THAT WE CAN CRATE THEM PRIOR TO YOUR ARRIVAL. Women's Haircuts $65
Men's Haircuts $38
Add-on Hi-lites $20 and up
Foil Hi-Lites $80 and up
CORRECTIVE COLOR
CREATIVE COLOR
ASK US
Creative Color $70 and up
kristin@chebellasalon.net
WE ACCEPT CASH, CHECK, AMERICAN EXPRESS, DISCOVER, MASTER CARD, AND VISA.
KRISTIN EASTLUND is the founder and principal stylist at Che Bella Salon. She has been working miracles with hair for over twenty-five years. She studied and worked in New York before moving to Santa Fe in 2000 and starting Che Bella Salon in 2005. Her commitment to the trade is evident in her client's satisfaction and her on-going interest in continuing education. Kristin regularly participates in national trade conferences and advanced technique seminars. Her extensive work experience prior to Che Bella insures clients that she is invested in their satisfaction. She is dependable and honest with strong communication skills.
Kristin has had some brushes with fame over the years. She specialized in hair extensions and make-up for Barbara Thomas Models, did make-up for the Albany Channel 6 news team, did hair extensions for Milly Vanilli before their fall from grace, turned down KISS to be their touring hair and make-up guru, and styled Tipper Gore's hair.
Her strengths include, but are not limited to: foiling, color and corrective color. She communicates with each client and analyzes hair texture, color and porosity prior to any service.
TUESDAY, WEDNESDAY, FRIDAY & SATURDAY : 10AM–6PM
MONDAY, THURSDAY & SUNDAY: CLOSED
Call for an appointment 505-982-7420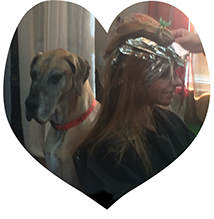 Kristin is the best colorist I have ever been to. When I travel elsewhere for cuts the stylists ask who colors my hair and they ALWAYS compliment her coloring job. I am a blonde in Santa Fe and she is the best in town for blondes. She uses toners in between foil treatments every six weeks that not only reduces expense but lessens the time spent in the salon. The end product is highlighting that looks great and not 'choppy" from having it done every 4-6 weeks… Kristin is very professional and caring.
Linda M. review on YELP.com
Great haircut, perfect color, good vibe. Highly recommend this place.
Kristen is truly outstanding. First time I came in, I was recovering from a terrible color experience and a badly grown out haircut. When she was finished with me (very quickly, BTW), I had fabulous color and cut -- both of which lasted a long time.
Second time around was just as good. I'll be back for sure.
Note: if you don't like dogs, this place may not be your cup of tea. :)
Carolyn B. review on YELP.com
Got my first haircut today with Kristen. She did a great Job, just what I asked for. So glad I found her on yelp. I see why she is a five star stylist. Would highly recommend her
Rosalie T. review on YELP.com
CHE BELLA SALON
1925 Rosina Street, Santa Fe, NM 87505
505-982-7420